Hunger Action Month - September 2019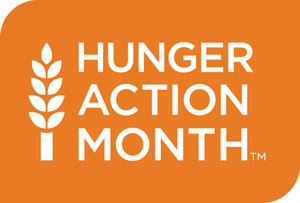 Once again in 2019, we are joining with Feeding America to celebrate Hunger Action Month during the entire month of September, which is highlighted with Hunger Action Day on September 12.
Across the state of North Dakota, there are more than 97,000 individuals unsure where their next meal is coming from with nearly half of those being children and seniors. Throughout the month of September, we are encouraging everyone passionate about hunger relief to take action and do all they can to help the one in nine individuals across the state of North Dakota that is food insecure.
Here are just a few ways that you can help:
30 ways in 30 days action calendar
Take an action each day to help fight hunger. Follow the Great Plains Food Bank on
Twitter
and
Facebook
for daily reminders of how you can help or download the calendar below.  
Hunger Action Month signs and social media graphics