Starting Over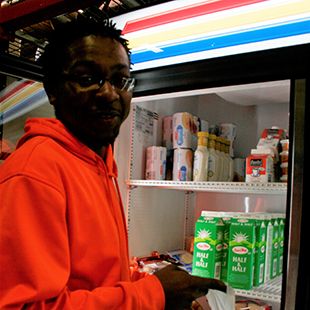 Xavier Harvey was living in South Carolina and found himself in a difficult situation. He was the victim of gun violence after being shot multiple times.
He knew that he needed to relocate fast.
"I have family up here so I contacted them," he said while sitting inside the Emergency Food Pantry in Fargo, a partner agency of the Great Plains Food Bank. "I was on my way the next day. And ever since I've been here, it has been going up."
Xavier was 20 years old at the time at the time of the incident and Fargo provided the environment to start over. He was able to find work and became married. He now lives with his wife, two step children and he and his wife recently celebrated the birth of a baby boy.
The family lives in an apartment and Xavier spends his time working for Mid States Truss Company and his wife at Independent Family Doctors.
But despite multiple incomes in the household, the family struggles to put food on the table from time to time and has found a valuable resource with the Emergency Food Pantry.
"I usually come every other month because it really helps us out with bills and everything so we don't get caught behind," Xavier said. "We've been having that issue lately. I'm completely wiped out and when we really need food and we don't have any money or sources, we come here."
The couple's two children in the house are ages 10 and 14. And with a newborn baby to look after, the family's resources are stretched thin each day.
Without the needed food assistance, Xavier says he could find himself in another difficult situation.
"If I didn't have this place I don't know what I would do," he said with a shake of the head. "It would be super hard. We would be really struggling. It would be so hard to get food and that's the most important thing because you don't want to starve especially when you have kids."