COVID-19: Sign up to volunteer during this time of need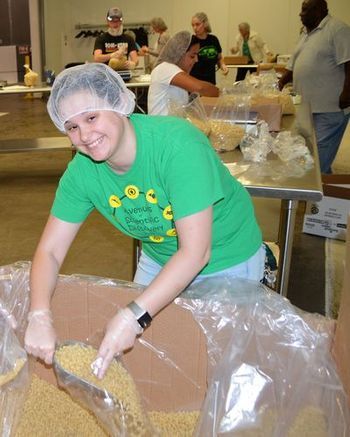 Now more than ever, volunteers are crucial to our ability to provide needed food assistance for hungry individuals across our region. The Great Plains Food Bank continues to encourage and welcome volunteers into our repack center under heightened sanitary precautions.

Due to the COVID-19 pandemic, we have implemented the following guidelines:
We CANNOT accept volunteers that:

Are not feeling well, especially if they have a fever or cough.
Have traveled internationally or traveled domestically to a COVID-19 "hot spot" and returned less than 14 days ago.
Who have been or likely have been exposed to COVID-19.

Our volunteers MUST:

Wash hands immediately upon entering the volunteer center.
Put on gloves immediately after washing hands.
Rewash hands and put on new gloves after using the restroom or any time they have removed their gloves.
Avoid touching their eyes, nose or mouth and wash their hands and put on new gloves if they do.
Cover their nose and mouth if they sneeze or cough then wash your hands and put on new gloves.
Practice social distancing at all times.

Volunteers will be led back to the volunteer center where they will wash their hands, put on gloves and be given instructions for their shift.
Projects will be set up to allow for social distancing.
Volunteer staff will also practice social distancing.
The volunteer area and equipment will be thoroughly sanitized between each shift.
We are currently limiting the number of volunteers for each shift to 10 individuals.
We are limiting volunteer shifts to 90 minutes at a time, which will allow us time between each shift to clean and sanitize all volunteer work areas, and limit the total number of volunteers to 10 or fewer individuals for each shift.
Volunteer shifts are Monday through Friday and listed here:
Shift 1 - 8:30 a.m. - 10:15 a.m.
Shift 2 - 11:00 a.m. - 12:45 p.m.
Shift 3 - 2:00 p.m. - 3:45 p.m.
Shift 4 - 4:30 p.m. - 6:15 p.m.