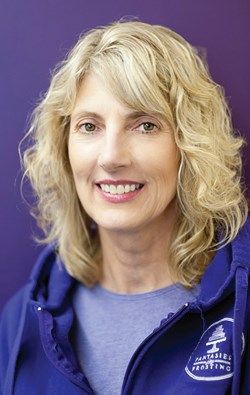 With personalized service for any special occasion, Darla Julin, CD, has more than 30 years of experience decorating cakes.  Her love for baking started as a child when she received an "Easy Bake Oven™" as a Christmas present. Darla has a degree in Chef Training and Chef Management from Minnesota State Community and Technical College, Moorhead and is a Member of Retail Bakers of America.
Darla's extensive experience in hotels, hospitals, restaurants, and bakeries as a cake artist and baker has allowed her to create wonderful masterpieces for her many customers. Darla has won many various awards for her baking and decorating work.
Darla is a member of I.C.E.S. (International Cake Exploration Society), and has held positions as both First and Second Alternate and as the State Representative for the state of Minnesota. Darla has taught adult education classes for cake decorating, candy making, and gingerbread houses. Darla judges cake competitions and is a demonstrator both locally and regionally.
Fantasies in Frosting, LLC is a licensed bakery with the state of North Dakota.  Darlia Julin is a Certified Decorator by the Retail Bakers of America.
Fantasies in Frosting, LLC was established in 1996, moved to a Moorhead retail location in 2005 and relocated to a larger Fargo location in 2014.