Wasabi - TJ Edra, Executive Chef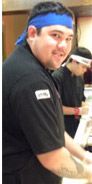 Chef TJ Edra grew up in Hawaii and started his career at Minnesota State Community and Technical College under the tutelage of Kim Brewster. He learned several different techniques and found that he loved asian cuisine. He is a self taught sushi chefi, and is currently teaching his younger brother the fine art of rolling sushi.
Chefs' Gala Signature Items:
The chefs' will be serving a variety of sushi samples including nigiri, sashimi and other popular rolls such as the spicy tuna and California rolls.