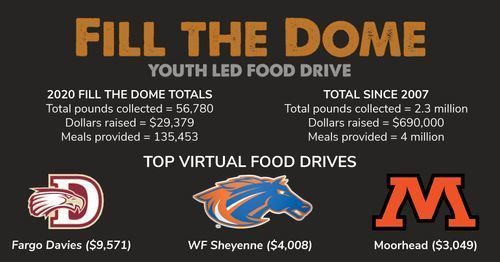 Event has now supplied more than 4 million meals for those in need since 2007
FARGO, N.D. – While COVID-19 presented challenges not seen before in the 14-year history of Fill the Dome, students came together to overcome many obstacles and collected 56,780 pounds of food and $29,379 during this year's event. The totals are enough to provide 135,453 meals to help feed hungry children, seniors and families in the region.
Fill the Dome has now collected more than 2.3 million pounds of food and nearly $690,000 since 2007, which is enough to provide more than 4 million meals. All the food and money collected through Fill the Dome benefits the Great Plains Food Bank.
As a result of COVID-19, no food touched the floor of the Fargodome for the first time in the history of the event. Instead, food drives were conducted inside each individual school and picked up directly by the Great Plains Food Bank.
Additionally, as a means to offset many of these challenges, for the first time schools operated their own virtual food drive to raise money. The schools hosting the highest earning virtual  food drives were: Fargo Davies ($9,571), West Fargo Sheyenne ($4,008) and Moorhead High School ($3,049).
About the Great Plains Food Bank
Now in its 38th year, the Great Plains Food Bank serves as North Dakota's only food bank. Its partner network includes nearly 200 food pantries, shelters, soup kitchens, and other charitable feeding programs operating in 99 communities across N.D. and Clay County, Minn. Since 1983, the Great Plains Food Bank, through its array of innovative direct service programs and partner network, have distributed more than 175 million meals to children, seniors, and families in need. The Great Plains Food Bank is a member of Feeding America, the nation's food bank network, and was named the Not-for-Profit of the Year in 2018 by the Fargo-Moorhead-West Fargo Chamber of Commerce.
FOLLOW US
Website: www.greatplainsfoodbank.org
Twitter: @NDFoodBank
Facebook: facebook.com/GreatPlainsFoodBank
Instagram: greatplainsfoodbank