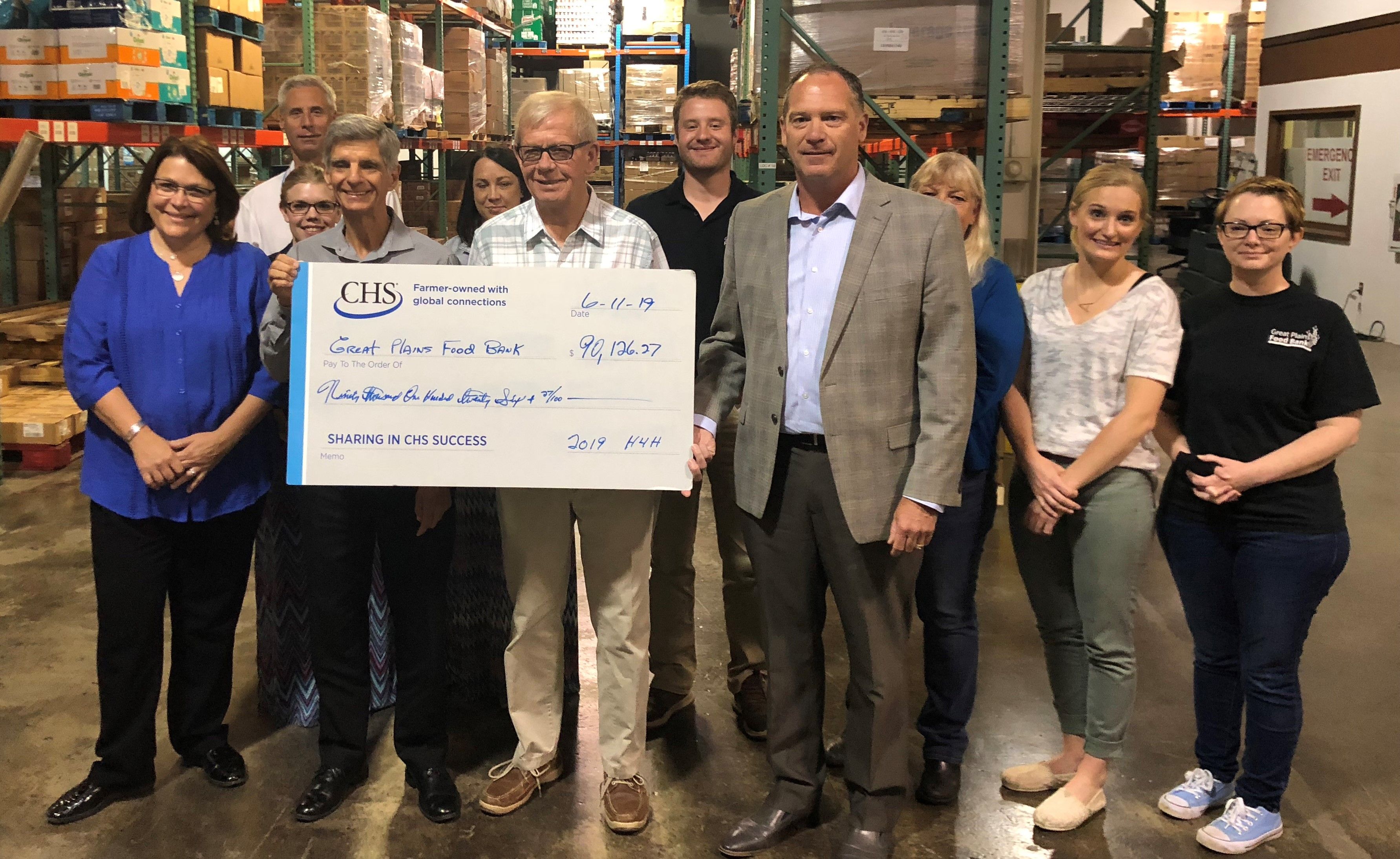 Annual Harvest for Hunger campaign has raised over $980,000 since 2011 to help those in need
FARGO, N.D. – Through their annual Harvest for Hunger food, funds and grain drive, CHS has made another substantial donation to help fight hunger across the state of North Dakota and western Minnesota with a gift of $90,126.27 to the Great Plains Food Bank. The donation is enough to provide more than 270,000 meals to help feed those in need.
Since 2011, the campaign has now raised more than $980,000 to benefit the Great Plains Food Bank, which is enough to provide more than 2.9 million meals to help the more than 97,000 hungry individuals served each year by the state's only food bank.
"Often, local food shelves and food pantries are doing invisible work. They are feeding people in our rural communities who we would never imagine are going hungry," CHS Northland Region Vice President Tom Lehar. "That's why it's so important that we support these local organizations. We are in the business of feeding the world, but we may never realize who is facing hunger right in our own communities. But these organizations have the system and contacts in place to make sure everyone has food on the table every day.
"Today we are proud to present this check to the Great Plains Food Bank for $90,126.27 to help food pantries throughout North Dakota. With this year's total, the Northland Region has now raised and donated more than $980,038 to the Great Plains Food Bank since 2011."
Local CHS locations participated in the 2019 Harvest for Hunger drive March 1-20 through a variety of fundraising activities. Nationwide, the campaign gathered more than $500,000 and 94,959 pounds of food to benefit organizations like the Great Plains Food Bank.
About CHS
CHS locations within the CHS Country Operations Northland Region are retail businesses of CHS, a leading global agribusiness owned by farmers, ranchers and cooperatives across the United States. Diversified in energy, agronomy, grains and foods, CHS is committed to helping its customers, farmer-owners and other stakeholders grow their businesses through its domestic and global operations. CHS supplies energy, crop nutrients, grain marketing services, animal feed, food and food ingredients along with financial and risk management services. The company operates petroleum refineries/pipelines and manufactures, markets and distributes Cenex® brand refined fuels, lubricants, propane and renewable energy products.

About the Great Plains Food Bank
Now it its 35th year, the Great Plains Food Bank serves as North Dakota's only food bank. Its partner network includes 213 food pantries, shelters, soup kitchens, and other charitable feeding programs operating in 99 communities across N.D. and Clay County, Minn. Since 1983, the Great Plains Food Bank, through its partners and programs, have distributed more than 162 million meals to children, seniors, and families in need. The Great Plains Food Bank is a member of Feeding America, the nation's food bank network and was named the Not-for-Profit of the Year for 2018 by the Fargo-Moorhead-West Fargo Chamber of Commerce.

CONTACT
Website: www.greatplainsfoodbank.org
Twitter: @NDFoodBank
Facebook: facebook.com/GreatPlainsFoodBank