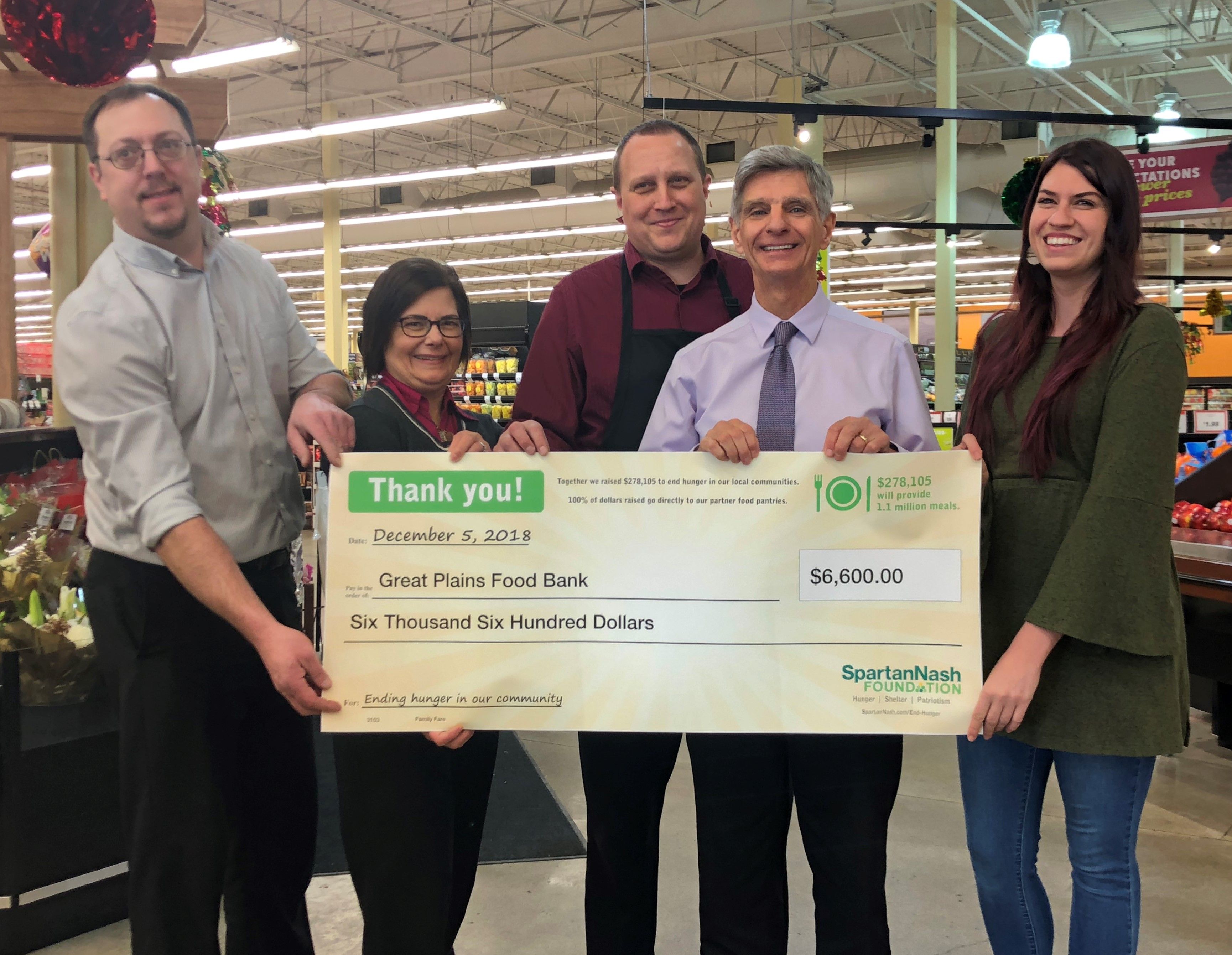 FARGO, N.D. – The SpartanNash Foundation has donated $6,600 to the Great Plains Food Bank, which is enough to provide 19,800 meals to help feed hungry children, seniors and families across North Dakota and western Minnesota. The donation was collected at the checkout lanes from customers at Family Fare stores in Fargo, Moorhead and West Fargo from October 24 until November 4.
Part of a nationwide campaign, Family Fare store customers were given the opportunity to donate $1, $5 or $10 during the 12 days of the campaign with 100 percent of dollars raised going to support food banks and food pantries in the upper Midwest.
"The SpartanNash Foundation and Family Fare have been outstanding community partners sharing in our mission to end hunger," Great Plains Food Bank CEO Steve Sellent said. "This donation comes at a critical time to help ensure we can serve everyone who turns to the Great Plains Food Bank programs and services for food assistance during the holiday season. We thank the SpartanNash Foundation, Family Fare and their generous customers for their continued support in helping solve hunger."
 "Just $1 can provide as many as three meals to those in our community struggling with food insecurity, so together, we can provide more than 1.1 million meals with the funds raised during our Foundation scan to end hunger," said Meredith Gremel, vice president of corporate affairs and communications and the executive director of the SpartanNash Foundation. "As a company that takes food places, we understand the importance of having healthy, affordable food that is accessible to everyone, and we are proud to join with our store guests to support local food banks and food pantries like the Great Plains Food Bank the work they do in our local communities."

In addition to monetary support through the SpartanNash Foundation, SpartanNash also donates distressed product to hundreds of community food pantries and local nonprofits such as the Great Plains Food Bank. In 2017, SpartanNash donated 5.4 million pounds of distressed product companywide.

About the Great Plains Food Bank
Now it its 35th year, the Great Plains Food Bank serves as North Dakota's only food bank. Its partner network includes 213 food pantries, shelters, soup kitchens, and other charitable feeding programs operating in 99 communities across N.D. and Clay County, Minn. Since 1983, the Great Plains Food Bank, through its partners and programs, have distributed more than 185 million pounds of food to children, seniors, and families in need. The Great Plains Food Bank is a member of Feeding America, the nation's food bank network and was named the Not-for-Profit of the Year for 2018 by the Fargo-Moorhead-West Fargo Chamber of Commerce.

About the SpartanNash Foundation
The SpartanNash Foundation was formed in 2015 and is the charitable giving arm of SpartanNash. It is focused on providing financial support to nonprofit partners who align with its mission to end hunger, provide shelter and support our military heroes. With a combined total legacy of more than 100 years, the SpartanNash Foundation represents the best of its predecessors, the NFC Foundation and the Spartan Stores Foundation. The SpartanNash Foundation is a Michigan nonprofit corporation and is tax exempt under IRC 501(c)3. It is a non-operating private foundation. To learn more about the SpartanNash Foundation, visit spartannash.com/foundation.
About SpartanNash
SpartanNash (Nasdaq: SPTN) is a Fortune 400 company whose core businesses include distributing grocery products to a diverse group of independent and chain retailers, its corporate-owned retail stores and U.S. military commissaries and exchanges; as well as premier fresh produce distribution and fresh food processing. SpartanNash serves customer locations in all 50 states and the District of Columbia, Europe, Cuba, Puerto Rico, Bahrain, Djibouti and Egypt. SpartanNash currently operates 139 supermarkets, primarily under the banners of Family Fare Supermarkets, D&W Fresh Market, VG's Grocery, Dan's Supermarket and Family Fresh Market. Through its MDV military division, SpartanNash is a leading distributor of grocery products to U.S. military commissaries.  
CONTACT
Website: www.greatplainsfoodbank.org
Twitter: @NDFoodBank
Facebook: facebook.com/GreatPlainsFoodBank