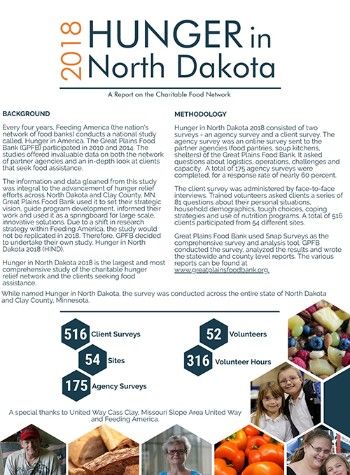 Survey of more than 500 clients, 175 partner agencies reveal trends in hunger relief
FARGO, N.D. – The Great Plains Food Bank has completed Hunger in North Dakota 2018 (HIND), a comprehensive study of more than 500 clients and 175 partner agencies (food pantries, shelters, soup kitchens) of the Great Plains Food Bank to identify trends about personal situations, household demographics, tough choices, coping strategies and the use of nutrition programs surrounding those seeking emergency food assistance.

Conclusions drawn from HIND will help map the future for the Great Plains Food Bank, the largest hunger-relief organization in North Dakota.
"The results of this groundbreaking study not only provide a snapshot of who is hungry in our state, but provides us a springboard for future solutions," said Melissa Sobolik, director of Ending Hunger 2.0, an initiative of the Great Plains Food Bank. "This data will help us build tailored hunger relief programs, better understand the root causes of hunger and see the opportunities and potential we have across the state. I think the information will surprise some people, but also compel us to act."

"We continue to be innovative in how we address hunger relief and HIND will be a crucial tool for us as we move forward in identifying the root causes of hunger," Great Plains Food Bank CEO Steve Sellent said. "Hunger impacts one in nine individuals throughout the state of North Dakota and many times those individuals are facing other challenges as well. The results from this study will help us be as effective and impactful as possible in providing food and other assistance for the more than 97,000 people we serve each year."
HIND revealed a number of significant findings including:
75 percent of Great Plains Food Bank clients reported living with a chronic disease and 84 percent of those reporting dealing with more than one.
13 percent of households served include veterans.
78 percent of Great Plains Food Bank partner agencies need more food to meet the need.
Clients reported using a food pantry an average of 11 times per year.
Clients reported making an average income of $12.54 per hour and $17,690 per year.
Clients receiving food assistance also reported that the following issues also impact their lives: Chronic disease/health conditions (44 percent); affordable housing (43 percent); lack of transportation (40 percent); poverty (35 percent); available housing (27 percent); quality housing (24 percent).
HIND interviewed a total of 516 clients, 175 partner agencies and 52 volunteers at 54 sites taking 316 volunteers hours to complete.
Find more information and the complete study results for HIND HERE.
About the Great Plains Food Bank
Now it its 35th year, the Great Plains Food Bank serves as North Dakota's only food bank. Its partner network includes 213 food pantries, shelters, soup kitchens, and other charitable feeding programs operating in 99 communities across N.D. and Clay County, Minn. Since 1983, the Great Plains Food Bank, through its partners and programs, have distributed more than 185 million pounds of food to children, seniors, and families in need. The Great Plains Food Bank is a member of Feeding America, the nation's food bank network and was named the Not-for-Profit of the Year for 2018 by the Fargo-Moorhead-West Fargo Chamber of Commerce