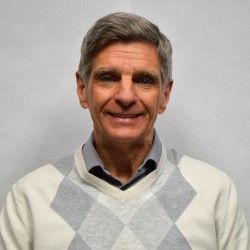 Hunger No More BLOG
Volume No. 2, Issue No. 2
This week the Great Plains Food Bank is holding events at both its Fargo and Bismarck locations to celebrate the 35th anniversary of the state's largest hunger-relief organization. What has stood the test of time, then the Greater Fargo-Moorhead Area Food Bank first opened its doors in March of 1983. That first year 189,000 pounds of food was recovered and distributed to 21 feeding programs. What transpired over the next three-and-a-half decades would be difficult to fathom.
Steve Sellent joined the Great Plains Food Bank in 1990 and currently serves as the organization's chief executive officer. In his more than 27 years of service, Sellent has seen the organization evolve and elevate itself to where it is today – providing a record 11.6 million meals to 97,170 individuals in 2017.
Below is a Q&A with Sellent as the Great Plains Food Bank celebrates 25 years.
Thirty-five years in the business of hunger relief. What does this milestone mean for the Great Plains Food Bank?
"It's really an opportunity to reflect on all the changes and accomplishments over the last 35 years. But more importantly it gives us a chance to think about what our next steps are on our journey for a hunger free North Dakota."
What is your favorite moment(s) from your 27+ years with the Great Plains Food Bank?
"I would probably say to me our single greatest moment was the completion of our creating a hunger free North Dakota study (completed in 2008) because it was the foundation of our growth over the last decade. Starting eight new programs, increasing the number of people that we served by more than 50,000 and almost tripling the number of meals we serve. Completion of that survey and that moment when we knew what the direction was and we knew what we needed to do. And because of that tripling in size as an organization in terms of the services we were able to provide over a decade. That was the beginning of us doing direct service programming."
When first launched in 1983, do you think there was ever a thought the Great Plains Food Bank would get to this level of providing nearly 12 million meals a year?
"No. I'm sure they had an exciting vision for the future of the organization, but starting as an organization serving just the Fargo-Moorhead area, I don't think they ever envisioned we would be a statewide organization serving more than 110 communities, 97,000 individuals and nearly 12 million meals a year."
What are you most proud of from this organization's history?
"I think our continuous efforts to find new and better ways every day to serve hungry people. As an organization, we are driven by the fact that despite everything we do there are still hungry people. That drives us to find new and better ways every day."
What do you attribute most to the organization's growth?
"I would say it's having passionate, hardworking and talented staff."
Talk about your first days at the Great Plains Food Bank.
"We had just three full-time employees and one part-time employee when I started. We had two people in operations that worked in the warehouse and drove trucks. We had a part-time office assistant and myself."
When you were hired as director in 1990, what did you duties include?
"Back then I did everything from filling in on truck routes when someone wasn't available to being solely responsible for all the fundraising and marketing efforts to agency relations work that we now have staff for and food sourcing."
How have the programs changed over the year?
"I would say the big changes are that we were just serving the red river valley at that time and now we have expanded to serve the whole state of North Dakota. The second big change is at that time we were just doing shelf stable food mostly provided by manufacturers to today more than 50 percent of our food is perishable product. We are all about those transformations.
"Also at that time our sole role was to provide food to food pantries, shelters and soup kitchens where now we have a wide array of programs targeting children, seniors and families. Those have been the big changes. That has been accomplished not only by our growing staff, but also our volunteer force. We had volunteers back then, but certainly was a smaller group. Also growing from an operating budget of $200,000 back then to over $4 million today has been crucial."
Talk about the day the Great Plains Food Bank moved into its current facility.
"Certainly it (the previous warehouse facility) was very inefficient in terms of we had to move everything up and down on freight elevators, we had low ceilings so we couldn't rack any product and a lot of it had wood floors so we couldn't use fork lifts. This facility provided a huge opportunity for growth. We went from a facility that could maybe hold a dozen semi-loads of food to a facility today that can hold 53 semi-loads. It had an impact on staff about how we thought of ourselves as an organization. It also provided a boost to staff and our stake holders."
Where do you see the Great Plains Food Bank 35 years from now?
"I see the single biggest change in the decades ahead is our work around root causes and helping people build a sustainable life so they don't need our services anymore. We will continue to grow our core mission of being sure people have food on the table and also seeing an increased focus every year trying to find ways to help people so they don't need our services. I think we will achieve our vision of a hunger-free North Dakota and Clay County, Minn., in terms of everyone having access to the food that they need to live a healthy life."