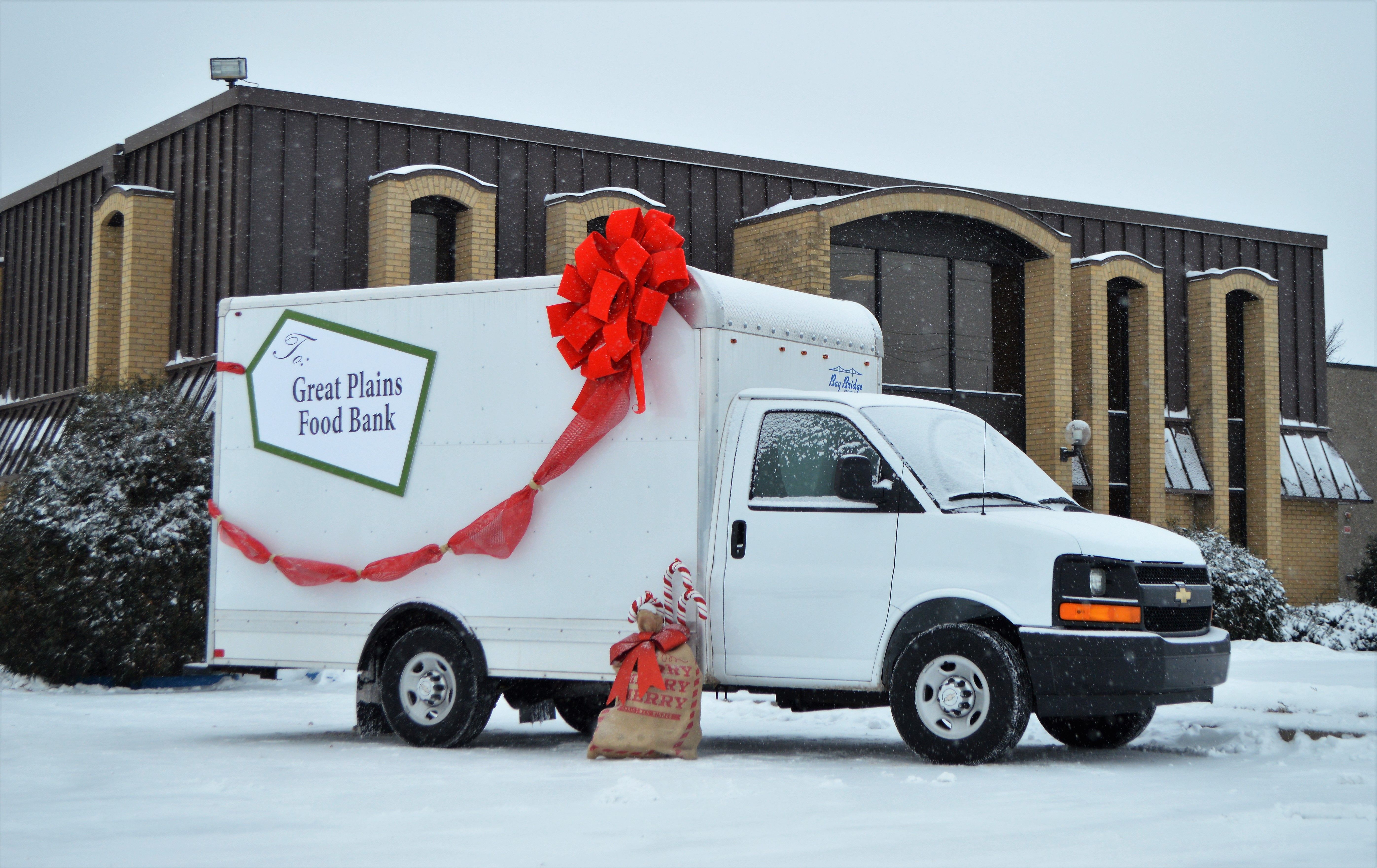 FARGO, N.D. – A generous gift from an anonymous donor is making it possible for additional children struggling with hunger to receive backpacks filled with food from the Great Plains Food Bank.
The donor learned Thursday morning there were children going hungry in the Cass-Clay community and reached out to the Great Plains Food Bank, who operates the BackPack Program, which supplies children with food over the weekends, holidays and school breaks when other resources are not available. The donor discovered the Great Plains Food Bank was operating at full capacity in terms of trucking, staffing and funding for this program and was not able to serve all children in need. The donor was adamant that no child should go hungry, and determined to do something to help fill this critical void.
Through an astonishing act of kindness, this Christmas angel quickly purchased and donated a new truck, committed volunteer time and financial resources – greatly closing the hunger gap for children in need. By Thursday afternoon, the truck was filled with backpacks and made its first delivery to 40 children attending Jefferson Elementary School who were on the waiting list.
"We are so blessed," said Marcia Paulson, chief development officer for the Great Plains Food Bank. "This amazing gift expands our capacity to identify and feed more children, but it's more than that. It ensures children living with hunger are equipped to learn and grow and dream of a future filled with opportunity. That is the true spirit of Christmas."
Today, the Great Plains Food Bank fills this truck again and begins delivery to 30 children at two new schools, Clara Barton Hawthorne Elementary and Eagles Elementary in Fargo. This astonishing commitment from a Christmas angel will sustain the BackPack Program at these two schools and Jefferson Elementary School for the remainder of the school year and beyond.
Throughout Fargo-Moorhead and West Fargo, the Great Plains Food Bank now offers the BackPack Program inside a total of 41 schools and supplied a total of 42,683 backpacks during the 2016-17 school year. In addition, the Great Plains Food Bank supplies 116,000 backpacks across North Dakota and Clay County, Minnesota. The Great Plains Food Bank has additional needs to support continued growth of the BackPack Program, including drivers, and financial resources to secure child-friendly food items to be included in the backpack bags. If you would like to donate to this effort to help ensure that no child goes hungry in our community, visit greatplainsfoodbank.org to make your donation today. A gift of $25 provides five backpacks - each filled with food for four meals, snacks, milk and juice.
About the Great Plains Food Bank
The Great Plains Food Bank serves as North Dakota's only food bank. Its partner network includes 215 food pantries, shelters, soup kitchens, and other charitable feeding programs operating in 99 communities across N.D. and Clay County, Minn. Since 1983, the Great Plains Food Bank and its partners have distributed food for more than 133 million meals to children, seniors, and families in need. The Great Plains Food Bank is a member of Feeding America, the nation's food bank network.
CONTACT
Website: www.greatplainsfoodbank.org
Twitter: @NDFoodBank
Facebook:facebook.com/GreatPlainsFoodBank