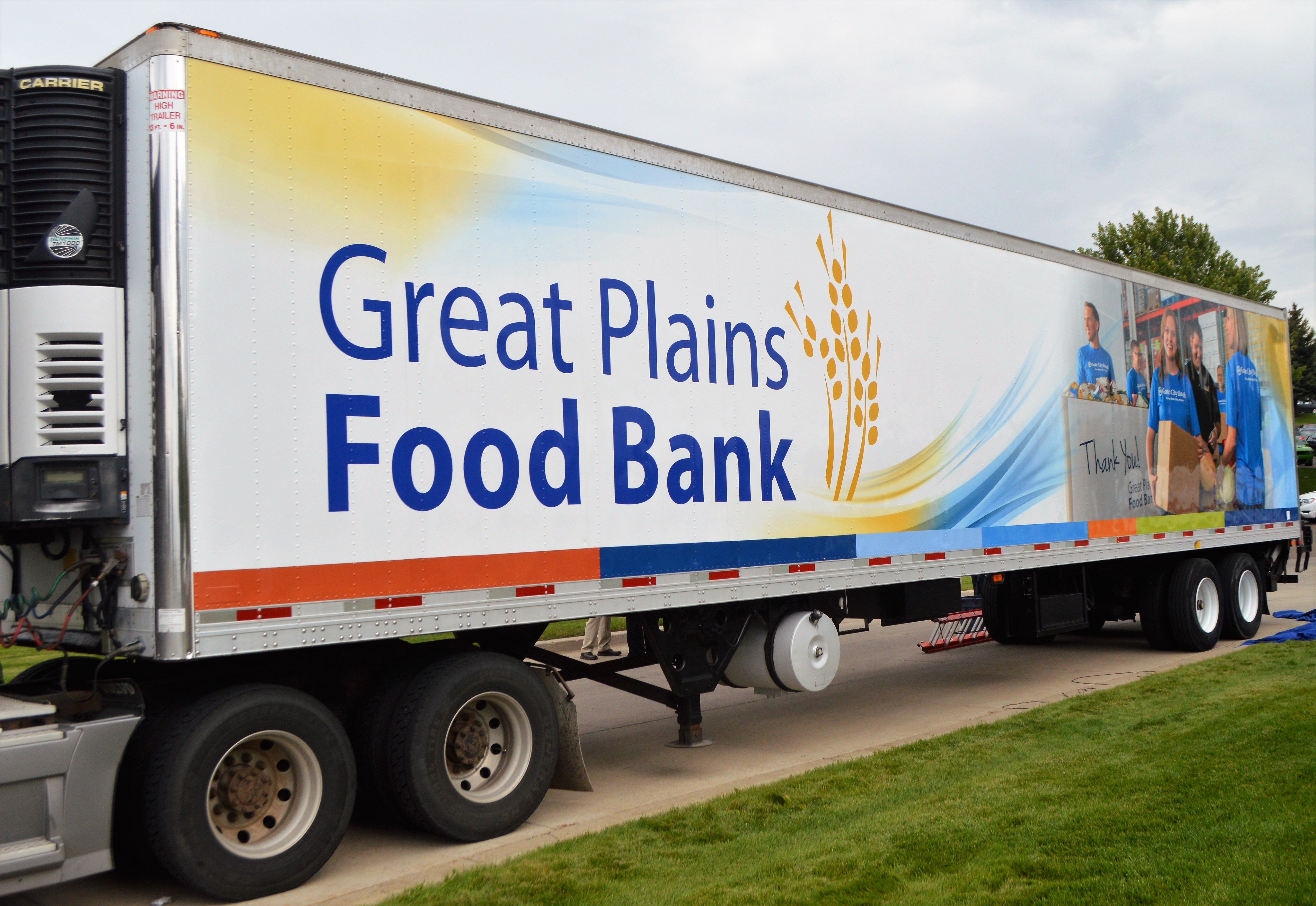 Addition of trailer to provide millions of meals to thousands of hungry neighbors annually
BISMARCK, N.D. – Great Plains Food Bank and Gate City Bank have unveiled a new trailer design for the hunger relief organization that features images of both entities working together inside the Great Plains Food Bank statewide distribution center; and displays the strong commitment and partnership between the two in the fight to end hunger.
"We are thrilled to be sharing this day with our partner Gate City Bank, and to share the impact this trailer will have on the 94,000 North Dakotans who seek emergency food assistance each year," Great Plains Food Bank Chief Development Officer Marcia Paulson said. "Over the next 12 months, it will supply food to low-income seniors, bring fresh produce to communities with limited access to this type of product, and deliver millions of pounds of food to our partner network of food pantries, shelters and soup kitchens operating statewide."
The trailer and design were part of a gift from Gate City Bank to the Great Plains Food Bank and is part of a fleet of seven trucks that log a combined 500,000 miles annually. It will support the expansion of food distribution to the 28 central and western counties of North Dakota and greatly reduce the hunger gap for children, seniors and families in need. Gate City Bank's investment in hunger-relief totals $250,000 with their generous gift to the Great Plains Food Bank.
"Gate City Bank is honored to partner with the Great Plains Food Bank," said Norm Clark, Southwest Regional Leader at Gate City Bank. "We strongly believe that it is our responsibility to make a difference in our community. Together we can solve hunger for a better way of life for our communities in need."
The trailer has the capacity to hold 44,000 pounds of perishable and shelf-stable food, which is enough for 36,666 meals.
About the Great Plains Food Bank
The Great Plains Food Bank serves as North Dakota's only food bank. Its partner network includes 215 food pantries, shelters, soup kitchens, and other charitable feeding programs operating in 113 communities across N.D. and Clay County, Minn. Since 1983, the Great Plains Food Bank and its partners have distributed food for more than 133 million meals to children, seniors, and families in need. The Great Plains Food Bank is a member of Feeding America, the nation's food bank network.
About Gate City Bank
A $1.9 billion mutual community bank, Gate City Bank has been providing banking services to its customers since 1923. Gate City Bank has 36 convenient banking offices across North Dakota and western Minnesota and employs 598 people. In addition to being the number one mortgage lender in North Dakota with locally approved, financed, and serviced home loans, Gate City Bank was named one of the "50 Best Places to Work" in 2014, 2015 and 2016 by Prairie Business. Additional information is available at gatecitybank.com.