Partner Spotlight – Amidon Community Cupboard
Food pantry a vital resource for many in southwest North Dakota.
Hunger No More Blog
Volume No. 1, Issue No. 6
By Jared Slinde
Travelling along U.S. Highway 85 in southwest North Dakota can appear desolate. With farmland and cattle pasture as far as the eye can see, it is a snapshot of the epitome of the Great Plains.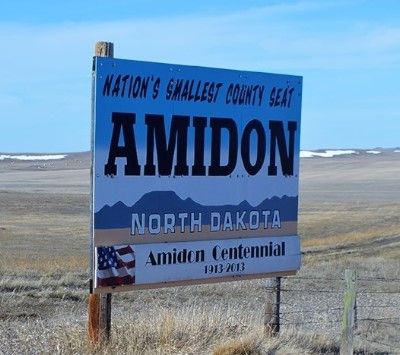 Heading north from Bowman or south from Belfied along Highway 85 offers little for amenities. You will find no hotels, gas stations or grocery stores as if the howling winds blew everything far away.
At times it is barren even bordering on forsaken.
But sitting near the middle of the roughly 60-mile stretch between the two towns is the tiny community of Amidon located in Slope County. According to the 2010 census, Amidon has a population of 20 people and boasts itself as the nation's smallest county seat. However, in fairness to Amidon, many more are living on nearby farms and are still very much a part of the community.
The remote setting creates an approach to living daily life most take for granted. The nearest tank of gas or fresh groceries requires a trip to Bowman, Belfield or New England, which sits 25 miles to the east. Considering this, residents are required to be strategic when around those services as they may not know when they will have access again. Considering North Dakota's harsh winters, residents may go weeks or months between visits.
The Slope County Court House is the largest structure among roughly a dozen short streets. The community features a bar, a church and a post office. The mannequin officer sitting inside the strategically placed cop car discouraging travelers from disobeying the 25 miles per hour speed limit along Highway 85 is perhaps Amidon's most notable feature.
Many of the residents have been in the area for decades and they know each other's story. They know each other's families. They look out for one another and it's more than a community to them – it's a family in itself.
Sitting on the western edge of town is a small building quickly mistaken for an old schoolhouse. The exterior is painted exclusively white and may get passed quickly by on your way through town without giving the structure much thought.
However, the services being provided inside are making a consistent difference for many.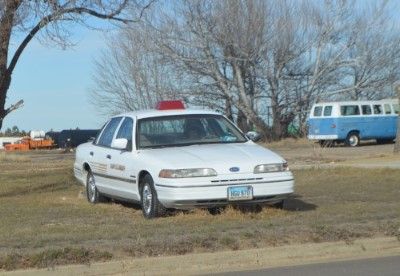 The building serves the community as both its senior citizens center and as the Amidon Community Cupboard, a partner agency of the Great Plains Food Bank, which provides a crucial service to hundreds of households each year.
The food pantry has no hours of operation and no set times for distribution. They are open whenever their services are required and with so many in the small community involved with the operation, the times they aren't able to fill a request are essentially nil.
Some of the families and individuals entering the Amidon Community Cupboard will come once or twice for assistance to get them through difficult times. Perhaps they have moved to the area for work in the oil industry and have yet to receive their first pay check. Others are facing low income and limited opportunity in such a rural area. Others are near lifelong members of the community that have grown older and aren't able to travel consistently for groceries. The simple presence of the Community Cupboard has allowed them to stay in the community they call home. Most clients wish to give back what they have received through volunteering or offering help with community projects. It's that good will that has helped the food pantry to thrive.
In some capacity, this access to vital food assistance has existed in Amidon since 1985 and officially as the Community Cupboard since 1997 following a difficult winter and spring that left farmers and ranchers in the area facing hard times.
"It's a far cry from what we started with," said retired pastor Jerry Erickson, a resident of Amidon since 1982 and involved with the Amidon Community Cupboard since its inception. "It's good to see the kind of services that we can give and it's good to see people really benefitting and coming back. In some cases coming back time and time again and in other cases they come once or twice then we don't see them again and that's rewarding."
They have taken steps forward both in terms of the physical structure and the numbers they have been able to serve.
At first the food pantry was located inside a trailer home in Amidon for a time before it gained approval to be moved into the senior citizens center.
Through June of this year, the Amidon Community Cupboard has served 165 households and more than 14,000 pounds of food this year alone. Many of those meals are going to individuals both within the community and throughout the southwest corner of North Dakota – roughly 50 percent of their services go to clients in Slope County and 50 percent to neighboring Bowman County.
"I don't like to drive anymore so unless I can get someone to get me stuff from town I don't go to Bowman or New England very often," said 85-year-old Patricia Getz. "So I get a lot of my food here. I really wouldn't be here if it weren't for the food pantry. I could be in Arizona in the winter with my son, but I prefer to be here." 
It's providing more than just vital food assistance. It has become a center of sorts for the community; a place to gather, share stories and a pot of coffee and has even served as a shelter at times for those passing through when they needed a place to stay. It reaches families, children and seniors alike.
It has been a constant resource through difficult and changing times for many including local business owner Travis Allard, who operates the local campground and bar in Amidon.
"From day one with these boys it has been very important because they would get a lot of diapers back in the day," said Allard as he sat with his sons Cade and Brooks, ages five and three, respectively. "We would come here and get cereal and pancake mix. There is still quite a bit of stuff we need to go to the grocery store to get, but we always come here first."
And the stories of how the Amidon Community Cupboard has been helping hungry individuals in North Dakota for years are abundant.
It has existed as an important resource for decades in a community that, according to census data, cannot even be described as having "dozens" of people yet they are reaching hundreds of households each year. The success in the number of meals and people it has helped over the years speaks volumes, but is miniscule when placed next to the pride in ownership taken by each member of the community.
And that pride and commitment is what will keep the Amidon Community Cupboard as a constant present in the community for decades to come.

Jared Slinde serves as communications manager for the Great Plains Food Bank.