Healthy food on the table, thanks to you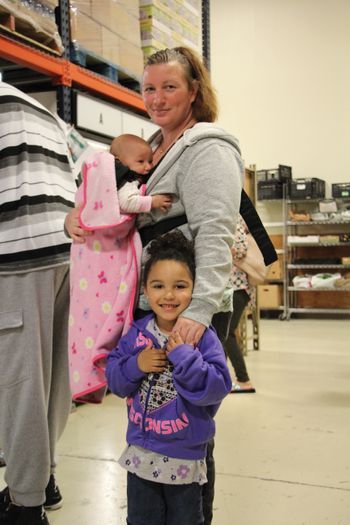 "You play a huge role in being able to stabilize."
--Leslie
"We were running a little behind on our rent...so our food had to go," Leslie says of her family's situation. "Times are tough. So, we have to utilize places such as food pantries to get by."
Leslie had been working as a certified nurse's assistant until her youngest daughter was born a few months ago. Her fiancé is a welder and works as much as he can, but even with his income, the couple faces times of financial uncertainty. With rent, medical expenses, bills and the cost to provide for their two precious children — 3-year-old Aria and her 3-month-old baby sister, Ayanna, their budget is tight.
Leslie is looking forward to getting back to work, but in the meantime, they're struggling. As she reflects on this difficult season in their lives, Leslie says she's felt frustrated, overwhelmed and almost ashamed to ask for help. She's truly thankful you choose to give.
"You play a huge role in being able to stabilize," Leslie says.
She's able to visit a Great Plains Food Bank partner food pantry near her home for help with food because you choose to give. Leslie especially appreciates the vegetables and lean meat she can take home from the pantry.
"My family for sure — and many others — are extremely grateful [to you for] donating money, food, your time to help others," she says. "That's what this world really needs."
Her family's not alone. Countless families across North Dakota and western Minnesota are having a hard time getting back on their feet after experiencing the damaging effects of the COVID-19 pandemic. You are truly paving the way for our community's brighter future. Thank you!