2017 Youth Summer Meals Sites and Locations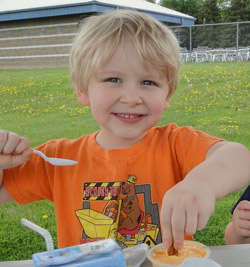 Fargo - Village West Park
June 5 - August 18 (not July 3 or 4)
12:00-12:30pm
Monday - Friday
Additional Programs: Summer BackPacks (Fridays), Pop-Up Farmers Market (Mondays 12:15-12:45pm)
***Volunteer assistance still needed. See below
Bismarck - Kiwanis Park
June 5 - August 18 (not July 3 or 4)
12:00-12:30pm
Monday - Friday
Valley City - City Park
June 5 - August 18 (not July 3 or 4)
12:00-12:30pm
Monday - Friday  
Youth Summer Meals Program Volunteer
We are still looking for a volunteer group for the Fargo location of our Youth Summer Meals Program.
Reports to:
Jenae Meske
(701) 476-9113
jmeske@greatplainsfoodbank.org
Dates Available (due to scheduling for this program we are asking for a minimum day / week commitment)
June 5, 2017 through August 18, 2017
Monday - Friday (not July 3 or 4)

Time Commitment: 
11:00am - 2:00pm
Position Overview
When school is out the children who rely on free and reduced meals during the school year are in a position where they might not have enough food to eat. You are able to make a difference in the life of that child by joining us to be a Summer Feeding Specialist! This volunteer coordinates lunch service to children at the  feeding sites in Fargo, ND.
Job Duties (we'll work with you to complete duties):
Load all supplies and food items into GPFB Nissan van
Drive GPFB Nissan van to feeding site locations
Set up feeding site according to specific instructions
Serve lunch to children ONLY during designated times
Accurately record hours, statistics, and food temperatures
Tear down feeding site and discard of all trash accordingly
Drive GPFB Nissan van back to food bank
Return all supplies and food items to designated areas
Other duties at assigned
Qualifications:
Must be 18 or older to drive the van (younger volunteers also encouraged to assist with operations)
Must pass a background check
Required Knowledge, Skills, & Abilities:
Exceptional driving skills
Strong leadership & organizational skills
Excellent interpersonal communication skills
Knowledge of charitable feeding network
Able to stand/bend/stoop for extended period
Able to repeatedly lift up to 50 pounds
If not already certified, will be required to take appropriate food safety training