Hunger in America 2014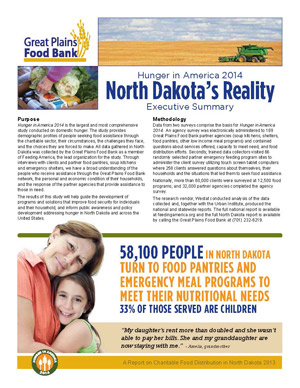 In order to fully address the problem of hunger, we first must understand it. To that end, the Great Plains Food Bank participated in Hunger in America 2014, the largest and most comprehensive study to date conducted on domestic hunger. It provided an in-depth look at at who is hungry, why they are seeking assistance, and how their needs are met.
An executive summary of Hunger in America 2014: North Dakota's Reality is available for download here.
Food is a basic human need and right. No one should have to go to bed hungry, or choose between buying groceries and paying rent. We have used this study to inform public policy, energize the response among public and private sectors and ultimately gain a better understanding of the complex issue of hunger in North Dakota and of the thousands of people it affects.